tennis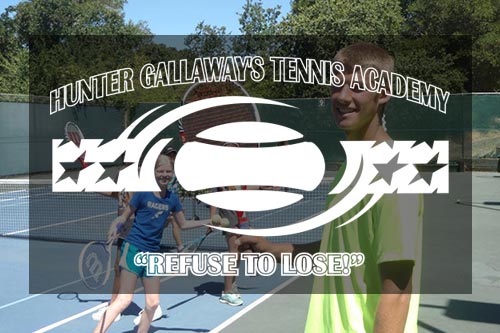 Hunter Gallaway's Tennis Academy runs all the tennis programs and courts at the Lafayette Tennis Club.
We offer opportunities for fun, recreational play as well as competitive development and experience
Academy I, II, and III provide a pathway for development
Beginner and Intermediate programs provide fun learning opportunities for ages from 4-14
Full and half-day Camps are provided in the summer months and during holiday  /break weeks
We provide opportunities for tournament play year-round and encourage all players to develop their skills and sportsmanship experience.  
Pickleball every Monday and Wednesday 5-6PM
Non members are welcome to participate in all tennis and pickleball programs.  Check out the discount and benefits to membership and enjoy more of what we have to offer the entire family.  All beginner programs are free to Members!
---
---
academy I & II & III
Excellence I Academy
High Level workout for advanced juniors playing championship tournaments. This program is designed to advance and refine competitive skills and prepare for USTA NorCal, National and NCAA competition. USTA ranking required.
By Invitation Only. Schedule and Price Monday, Wednesday and Friday 3:30-6:30 (summer schedule starting 6/13):
Monday through Friday 11:30-2:30
Members / Non-Members Package of 8 clinics $360 / $400
Package of 16 clinics $640 $720 ** Try our drop in experience. Fee: $50/clinic
---
Excellence II Academy
Like Excellence I this is also a high level workout, but more geared to the intermediate junior tennis player who plans to compete in high school varsity or junior varsity tennis. Some players join to refine their technique and gain entry into Excellence I.
The focus is on tactics and strategy in a fun and competitive atmosphere. By invitation only.
Schedule and Price.
Tuesday and Thursdays 4:00-5:30
Members Non-Members Package of 3 clinics $100 $120
---
Excellence III Academy
This is a workout geared toward the Intermediate to Advanced 12 and under player.
Players join to eventually be able to play on our Junior teams and begin playing tournaments.
By Invitation only.
Times are Monday, Wednesday, Friday 4PM-5PM
Members $20 per clinic Non-Members $25 per clinic
Contact Hunter at hunterhg@comcast.net for more information
---
beginner & Intermediate
Pee Wee classes 
Ages 4-5
Hot Shots classes 
Ages 6-9 
Juniors classes 
Ages 10-14 
Schedule and pricing, please click here
---
summer camps
  
Provided: 
Soft balls and mini nets and courts will be used for beginners. Learning tennis has never been easier!
Loaner Rackets will be provided if needed. Students may not receive the same racket every day. For comfort purposes we advise that you purchase a racket for your child. Lunch and snacks will not be provided for all Day students. We will provide otter pop breaks when it is hot. Each day after lunch we will do an organized activity.
Water balloon toss, table tennis, scavenger hunts, sponge fights and pickleball are a few of our activities that your player may participate in!
Swimming will also be provided for all day campers in our new amazing pool on Fridays!!
Make sure to pack a bathing suit and goggles on Fridays! Our new pool is heated and Awesome! We also have a rock wall for climbing that may be used as an activity but not guaranteed! We will have lunch daily and meet before and after camp in our new semi enclosed viewing structure with fans! Pee Wee Rackets may be purchased but are limited. 
What to Bring
Tennis Racquet, comfortable tennis shorts/skirts with pockets (NO JEANS or CUT OFFS!). Non Marking white soled shoes required—students will not be allowed on court with marking black soled shoes or running shoes! If you have a question about your Child's shoes please see the Camp Director for a shoe check. This rule will be strictly enforced! Your child will not be allowed to participate if he/she wears the wrong shoes.
No Chewing gum is allowed at the LTC!
Sunscreen and a Visor or hat
Water bottle with ice
All day students please bring a bathing suit, goggles and towel on Friday
All day campers should bring a full lunch and snack!


---
Adult Tennis
Please visit our Tennis Pros page here for current adult programs, rates, and booking. For information in regard to player matching, socials, or drop-in play opportunities please email Pablo, he will gladly get back to you at the earliest possible time.
---
Pickleball
New Groups! Checkout our growing Pickleball community.
Mondays and Wednesdays  5PM-6PM.
All are welcome.  8 week classes (choose Monday or Wednesday) $125.
Beginner classes are always free to Members.
NEW

PRIVATE PICKLEBALL LESSONS
Members
Non Members
$50/hour
$60/hour
---
Book Courts Online
Members may book courts online 24/7.  You may  hold up to 3 future dated reservations up to 8 days in advance.
If you have already registered on our web site, please LOGIN here. 
New to our web site?  Take a minute to REGISTER here.  Note that the registration process requires management approval.  Once approved, you can book courts using any web browser (on your phone or your computer).  Mobile phone users can also download our app (available after registering and logging in).