2020 Summer Camps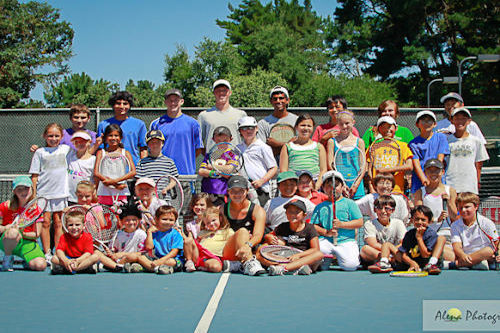 The Lafayette Tennis Club offers the finest and most modern method of tennis instruction. Our instructors are trained to assist all students in learning basic stroke fundamentals. The Camp is overseen by Hunter Gallaway, Tennis Director and Owner. He is formerly a world ranked player, Collegiate All-American, and USPTA certified instructor. He was the 2004, 2005, 2006, 2008, and 2009 Men's Open Player of the Year. Hunter has won over 15 national titles including multiple GOLD BALLS! He is assisted by a Camp Director and an outstanding group of experienced professionals and juniors instructors who have been personally trained in all aspects of teaching tennis.

IMPORTANT NOTICE ABOUT CAMP SAFETY

For questions, contact Hunter Gallaway at Hunter@lafayettetennis.com 
Session
Dates
Mornings
$135 Member/$180 Non-Member

Afternoons
$135 Member/$180 Non-Member

Full Day
$270 Member/$330 Non-Member

1
Jun 1-Jun 5
2
Jun 8-Jun 12
3
Jun 15-Jun 19
4
Jun 22-Jun 26
5
Jun 29-Jul 3
6
Jul 6-Jul 10
7
Jul 13-Jul 17
8
Jul 20-Jul 24
9
Jul 27-Jul 31
10
Aug 3-Aug 7
11
Aug 10-Aug 14
12
Aug 17-Aug 21
---
Camp Info
What to bring:
Tennis Racquet

Comfortable tennis shorts/skirts with pockets (NO JEANS or CUT OFFS!).
Non Marking white soled shoes required

**—students will not be allowed on court with marking black soled shoes or running shoes!

If you have a question about your Child's shoes please see the Camp Director for a shoe check. This rule will be strictly enforced! Your child will not be allowed to participate if he/she wears the wrong shoes. No Chewing gum is allowed at the LTC!
---
What is provided
Soft balls and mini nets and courts will be used for beginners. Learning tennis has never been easier!

Loaner Rackets will be provided if needed.

Students may not receive the same racket every day. For comfort purposes we advise that you purchase a racket for your child.

Lunch and snacks will not be provided for all Day students. We will provide otter pop breaks when it is hot. Each day after lunch we will do an organized activity.

Water balloon toss, table tennis, scavenger hunts, sponge fights and pickle ball are a few of our activities that your player may participate in!

Swimming will also be provided for all day campers in our new amazing pool on Fridays!! Make sure to pack a bathing suit and goggles on Fridays! Our new pool is heated and Awesome!

We will have lunch daily and meet before and after camp in our new semi enclosed viewing structure with fans!

Pee Wee Rackets may be purchased but are limited.
---
Directions

CAMP guidelines for Playing Tennis Safely
1) the ratios of students to instructors will be 1 to 4 or Max 1 to 6 student coach ratio.  


2) a maximum of 12 students will be accepted for The all day camp.


3) Activities will be adjusted due to social distancing during lunch but we still plan on swimming on Fridays!  No snacks will be provided or drinks except water this summer.


4) please have your player bring a neck gator, bandana or other face covering.  They will wear them during certain times of the day. Lunch and walking up to the outdoor viewing clubhouse.


5) Make sure students have a large jug of water with ice.  No ice will be available this summer as of now.


6) Social distancing will be enforced as well as sanitation procedures for balls, gate hinges and benches.  We will have hand sanitizer and soap w running water.  All bathrooms will be sanitized after every use so please have your player use the restroom at home before camp unless they are attending the all day program.  


7). When you drop off your player on the first day please park in the lower parking lot and walk your player in and check in at the viewing clubhouse with Luis Castillo who is the Camp Director.  Please contact Hunter at 9253688882 if there are any payment issues.  Your player will not be able to attend if they are not prepaid.  Same day late fee sign ups will be strictly enforced.


8) Parents of players may not park in the parking lot and stand on the fence to watch players.  If you would like to watch the camp then you must park up top on the street and walk down to the courts using a face covering at all times.  


8). If your player is sick, or has had a cough or fever in the last 2 weeks then please do not send them to camp.  I will allow make ups on a per case basis this summer.  There are no refunds.  


9)We will have limited rackets for players so please try to purchase a racket before hand.  Go to tenniswarehouse.com and they will walk you thru the sizing process for your player.  We may have a few rackets for sale as well and can string rackets for you.


8)We may change or adjust our protocols at anytime.  


Thanks for your understanding!  Our main goal is to provide a safe and fun tennis camp environment!